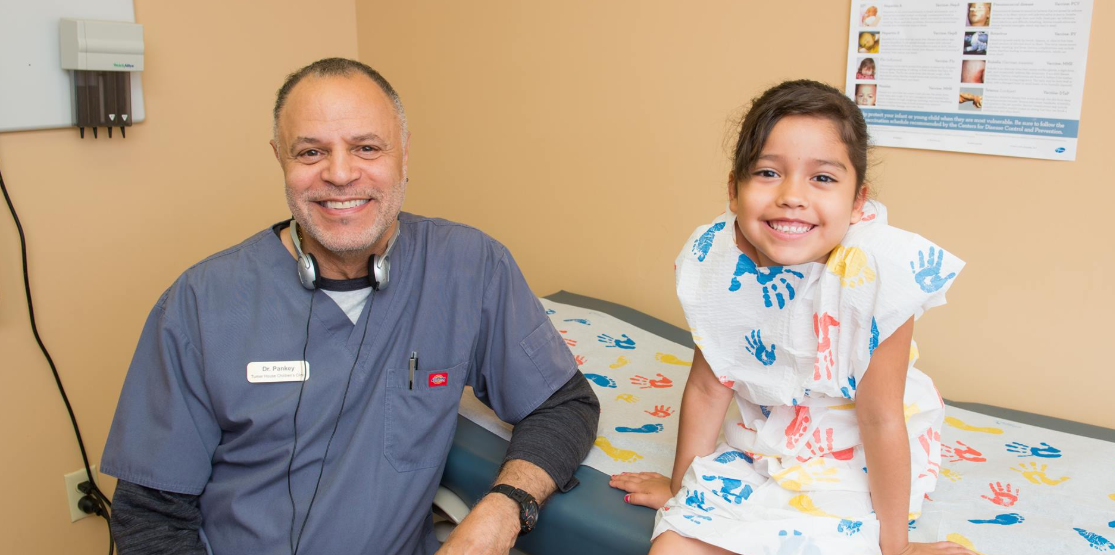 Dr. William Pankey, Vibrant Health's Medical Director, with a patient.
Vibrant Health Provides Affordable Pediatric Care at the CCKC
As part of its mission to enhance the lives of children and families in our community, the Children's Campus of Kansas City (CCKC) is proud to have made affordable pediatrics a core component of its services since day one. Vibrant Health (formerly Turner House Clinics and KU Pediatrics at the Children's Campus) offers sliding-scale pediatric care to all members of the community in a comfortable, modern clinic on the first floor of the CCKC.
Vibrant Health is dedicated to "to provid[ing] access to respectful, empowering, culturally sensitive and appropriate high-quality health care for the community, regardless of socio-economic obstacles." At the CCKC clinic, all children from the community are welcomed to receive services, which include regular well-child visits and immunizations as well as walk-in sick visits. Vibrant Health accepts Medicare, Medicaid, CHIP and private insurance, but if families are uninsured, Vibrant Health will work to create a treatment plan that a family can afford. Vibrant Health at the CCKC, along with Project Eagle, also offers language interpreters for families as needed and as available.
Vibrant Health operates two other clinics in Wyandotte County (21 North 12th Street and 1428 South 32nd Street), which offer dental services, behavioral care, women's health care (including prenatal care), and mental health services. Vibrant Health is a Federally Qualified Health Center/Clinic (FQHC).
Hours at Vibrant Health at the CCKC are as follows:
Monday: 8:00am-5:30pm
Tuesday: 8:00am-5:00pm
Wednesday: 7:30am-5:30pm
Thursday: 8:00am-5:30pm
Friday: 8:00am-5:00pm
Visit Vibrant Health's website for more information.