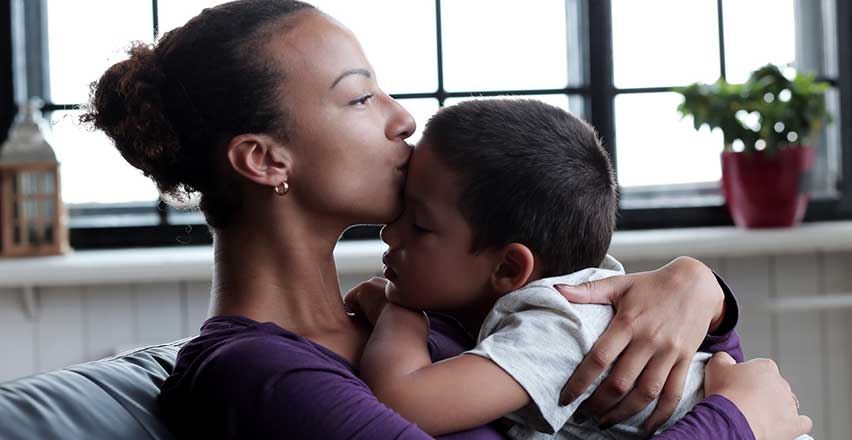 Helping a Young Mother Overcome Depression
Vicki's first pregnancy wasn't easy, so when she found out she was expecting a second child, she was a bit nervous.
However, carrying her second child was much different than her first. She was positive and upbeat, and enjoyed the outpouring of attention, support and thoughtful assistance from those around her. As Vicki remembers it, she didn't open a door for herself or pass a stranger that didn't smile a single time during the nine-month period.
Despite her optimistic pregnancy, her cheerfulness was short-lived. A few weeks after giving birth, Vicki began feeling depressed,"There were a lot of days when I felt very sad and fatigued and didn't want to connect with my children. It felt like there was a brick wall in front of me that I couldn't maneuver."
Vicki discussed how she felt with her Early Head Start home visitor from Project Eagle — who came to her home once a week to support her as her children's teacher and caregiver. Thanks to a partnership between Project Eagle's Early Head Start home-visiting program and The Family Conservancy's Moving Beyond Depression (MBD) program, Vicki's home visitor was able to provide a preliminary depression screening and based on the results, Vicki was referred to MBD to receive free therapy in her home.
Vicki's home visitor and her MBD therapist collaborated closely throughout the treatment process. Through this team approach, Vicki was able to feel better after depression and focus her love and attention on her children, "Because of Moving Beyond Depression, I'm in a much different place. I'm able to connect with my kids more often and I have very few times when I feel like I don't know what to do. Now they [my kids] can see that I'm not just doing the work — I'm enjoying it."
As local Head Start agencies, The Family Conservancy and Project Eagle provide Head Start services to area families. In addition to being offered at The Children's Campus, these services are provided where children are already learning — existing child care programs and in the home.
In 2016, MBD joined United Way of Greater Kansas City's Promise 1000 collaborative, which connects home visiting agencies to create a system of services delivered to at-risk families in their homes. TFC and Project Eagle home-based Head Start programs and MBD are part of the collaborative.